Technology keeps us connected and makes health services more convenient. The latest mental health apps can help you relax or speak for a trained professional. Health insurance providers are beginning to recognize the benefits of online counseling, and your plan may cover all or partial costs for therapy sessions.
Find out when mental health apps and online therapy services everyone is talking about. Check out what they offer and if they are worth the cost.
1
BetterHelp – Therapy on Your Schedule
The online counseling BetterHelp app connects you with a licensed and experienced counselor remotely. The company has the largest network of mental health professionals to help you with addictions, depression, and trauma. You can communicate with your therapist by:
Exchanging messages in a dedicated private chatroom.

Scheduling a live chat via text.

Scheduling a video conference.

Scheduling a phone call.
Your BetterHelp membership includes one live weekly session. The live call can be via text, video call, or phone call.
The app matches you to a counselor based on the issues you are dealing with, your preferences, and your objectives. All therapists are licensed and experienced but have different approaches.
Mental health professionals include:
Psychologists.

Marriage and family therapists.

Clinical social workers.

Board licensed professional counselors.
You can ask for a different professional if you feel like the choice is not a good fit.
A BetterHelp membership costs $60 to $90 weekly, and the app bills you monthly. Medicare, Medicaid, and most health insurance policies do not cover BetterHelp services.
However, BetterHelp does have discounts and financial aid for those with low income or who are unemployed. Discounts are available for students, veterans, and individuals with disabilities. Financial assistance can cut costs up to 40 percent.
2
Talkspace = #1 Rated Online Therapy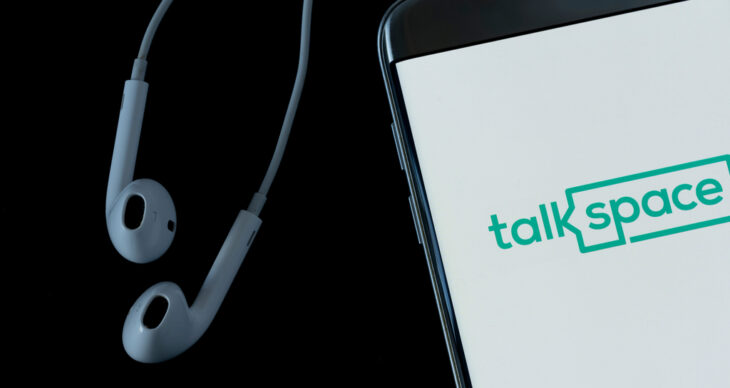 Talkspace is very similar to BetterHelp by connecting you with a mental health professional through your smartphone. In addition to talk therapy, Talkspace has psychiatry services. If you are interested in adding medication to your treatment, Talkspace would be a better option than BetterHelp.
Likewise, Talkspace works with some health plans. Contact your job's human resource department or insurance provider's member services to see if your plan has mental health coverage.
Talkspace has three subscription plans:
Unlimited Messaging Therapy Plus – Includes audio, text, and video messaging with your therapist five days a week

Unlimited Messaging Therapy Premium – Includes unlimited messages, like in the Plus subscription, and one live 30-minute session each month

Unlimited Messaging Therapy Ultimate – Includes unlimited messages, like in the Plus and Premium subscription, and four live 30-minute sessions each month
Pricing for the subscription plans varies by your location. Weekly rates for the Plus plan are around $60, $73 for Premium, and $91 for Ultimate. Talkspace bills you monthly.
With rates so similar, which app is better? The differences between Talkspace and BetterHelp can help you choose between the two.
3
Headspace – Meditation Made Simple
Headspace is a meditation app that incorporates mindfulness into your routine. It has hundreds of themed and guided meditations that focus on a wide range of specific issues, from unhealthy food cravings to creative writing.
Headspace has tools for:
Meditation.

Sleeping.

Moving or working out.

Improving focus.

Waking up.
The app has meditation workouts that focus on awareness, intention, and stress relief. It also has Sleepcasts with soothing voices telling everyday stories, breathing techniques, and soundscapes.
Headspace plus is $13 a month or $70 annually. There are also student and family plans with better rates.
What sets Headspace apart is the app's illustrations and very structured courses, which are better for beginners. When it comes to Headspace vs. Calm, it comes down to personal preference. However, the best meditation app may also be the best online counseling app.
4
Sanvello – On-demand Help for Stress, Anxiety, and Depression
Sanvello uses the principles of cognitive-behavioral therapy (CBT) and meditation to treat mental health issues. It is a hybrid of online counseling and meditations apps. Sanvello therapy offers four services:
Self-care – Answer questions on the app daily to track your mood and identify patterns that help, such as exercise and sleep. The app also has coping tools and "journeys" that use CBT to treat depression and substance abuse issues. You can subscribe for $9 a month or $54 a year. 
Peer support – The app connects Sanvello users in community forums as part of a free service.
Coaching – A coach trained in CBT is available with a subscription to give you one-on-one support. The coaching subscript also includes live real-time classes with Sanvello coaches. You can subscribe for $50 a month or $350 a year. 
Therapy – You can schedule an appointment with a Sanvello therapist. Like Talkspace, many health insurance providers have coverage for Sanvello therapy sessions. The first therapy session is $140 and $85 for follow-up appointments if you do not have insurance.
The Sanvello therapy app is comprehensive. However, some services like therapy sessions are not available in all states as of writing.